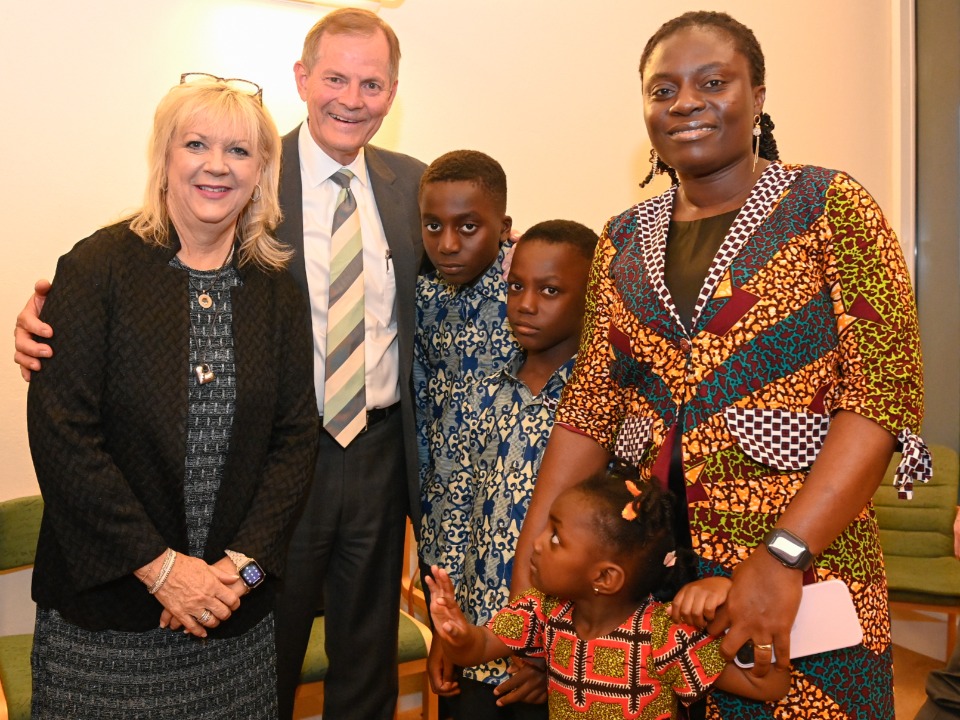 During a recent historic European visit to Iceland, Scotland and England, Elder Gary E. Stevenson emphasized the need for Latter-day Saints to be "of one heart, of one mind" with "lives centered on Jesus Christ," doing all we can to follow Him.
Elder Stevenson, a member of the Quorum of the Twelve Apostles of The Church of Jesus Christ of Latter-day Saints, began in the city of Reykjavik, Iceland, on September 7, before heading to Edinburgh, Scotland, and Northampton, England on September 9-10. He was accompanied by his wife, Sister Lesa Stevenson. 
It has been over 20 years since an Apostle of the Church has paid an official visit to Iceland. In 1977, Elder Joseph B. Wirthlin, then a General Authority Seventy, dedicated Iceland for the preaching of the gospel and Elder David B. Haight of the Quorum of the Twelve Apostle dedicated a building for Church use in 1983. In 1989, then-Elder Russell M. Nelson of the Quorum of the Twelve Apostles invoked an apostolic blessing for Iceland to be "a lighthouse to all of Europe."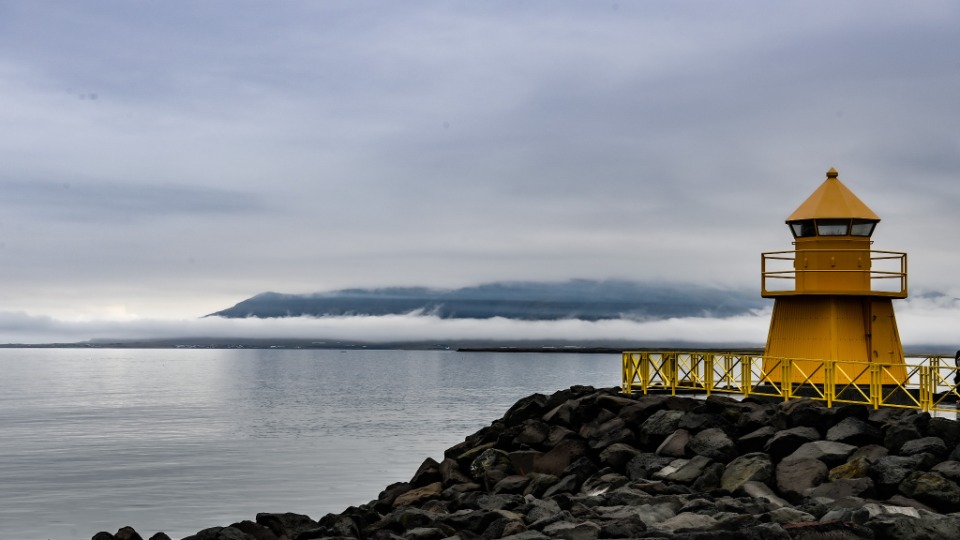 At each stop on his journey, Elder Stevenson conveyed the love of Church President Russell M. Nelson. Speaking to local Church members, missionaries and friends in Reykjavik, Elder Stevenson emphasized the need to be "of one heart, of one mind" with "lives centered on Jesus Christ," doing all we can to follow Him.
Referencing Iceland's geophysical wonders – it is often referred to as the 'Land of Fire and Ice' — Elder Stevenson emphasized that followers of Jesus Christ can gather to worship Him wherever in the world they are located. "Zion is here. Zion is in this place where you are. And so, I am grateful to be with you gathered in Zion together."
In Iceland, Elder Stevenson was joined by Elder Alan T. Phillips of the Europe North Area Presidency. "I can see miracles taking place in Iceland," Elder Phillips said. "I see the start of something very, very special."
With the majority of Icelandic-based Church members either inside the chapel or viewing online, the meeting incorporated simultaneous translation into Spanish and Icelandic, reflecting the growing diversity of Latter-day Saint congregations in Iceland. The Church has a vibrant Spanish-speaking branch that includes new arrivals from Latin America, especially from Venezuela.
"I didn't expect that I would see such a beautiful sight that we find here as we gather together in Iceland to see this wonderful congregation with its beautiful diversity," Elder Stevenson said. He added that Church members in the meeting had their "hearts knit together" in love.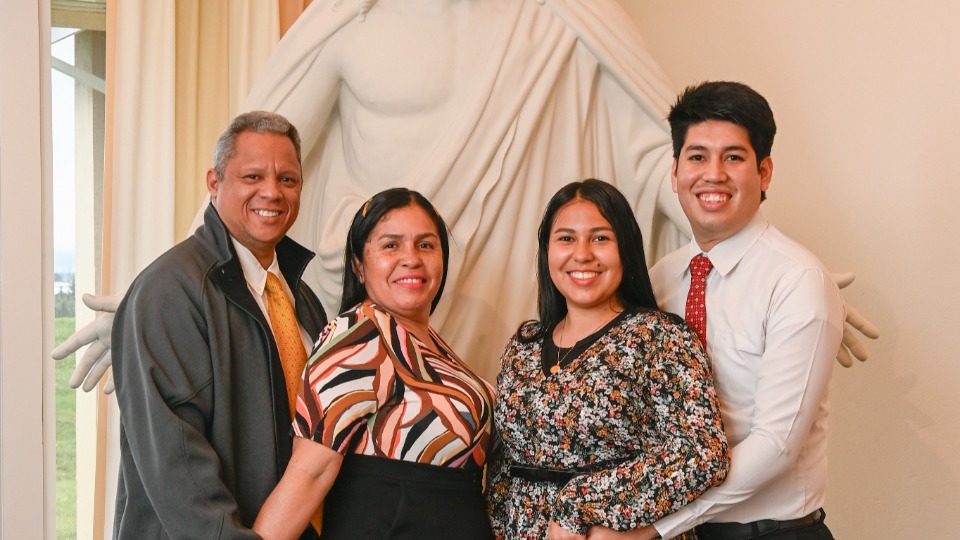 "Whether you call Iceland your native country, or you find yourself here, never expecting to come from Venezuela, and now live in Iceland, or [are from] Ghana, or Nigeria or wherever it might be, God is mindful of you," Elder Stevenson explained. "He is mindful of those who are in the highlands of Bolivia or the plains of Serengeti (in Tanzania, Africa) or in Mexico, or China or wherever it might be. God is mindful of each one of us. That means he's mindful of you. That means he's mindful of your children and of your loved ones. He knows you; He loves you; you are His and He is yours."
In Edinburgh, Elder Stevenson addressed a meeting of male and female leaders throughout Scotland and Ireland, encouraging them to "let their light shine" for the rest of the world to see.
Susan Paterson, a counselor in her stake Relief Society presidency, was touched by Elder Stevenson's comments. Her application of his message is to "love the youth and the young adults as this love will allow them to reach their full potential at church. The importance of providing this loving care to the rising generation cannot be underestimated."
Louise Giboin from the Edinburgh Stake remarked that she found "particular inspiration from Elder Stevenson's testimony of the transforming power of The Book of Mormon." "Even Nephi [the first prophet to write in the Book of Mormon] had to endure many trials and challenges, yet he was still blessed and highly favored of the Lord," she said.
Also attending the Edinburgh conference were Elder Mark Stewart, Area Seventy, Sister Traci De Marco, area organization advisor, and Elder Scott D. Whiting of the Europe North Area Presidency. Elder Whiting also addressed the meeting and referenced Elder Dieter F. Uchtdorf of the Quorum of the Twelve Apostles as he said, "Share what is in your heart. ... I am asking that you stand as witnesses of the power of the gospel at all times — and when necessary, use words."
Elder Stevenson told missionaries serving in Scotland and Ireland missionaries that "as you testify of Christ you create an environment that allows the Holy Ghost to testify also." He blessed them with "help in the things that are hard and the strength to work and serve."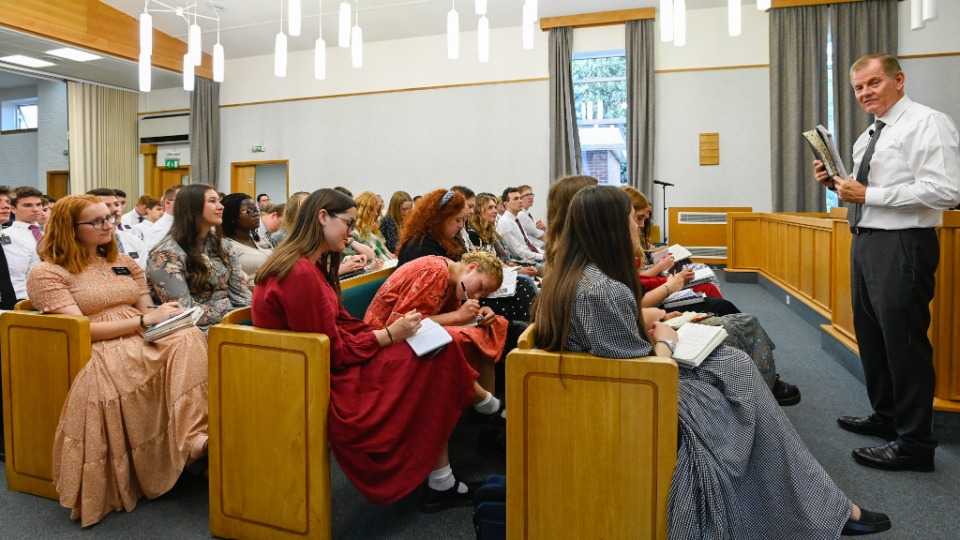 Elder Stevenson concluded his European visit in Northampton, attended by Church leaders from across the Birmingham region. "The Lord will qualify those whom He calls," he said. "The Lord will comfort those whom He calls; the Lord will inspire those whom He calls."
Elder Stevenson was joined in Northampton by Elder Hans T. Boom, President of the Europe North Area, Elder Martin J. Turvey, Area Seventy, and Sister Heidi Griffiths, area organization advisor. Sister Griffiths told the attendees, "We want our children to live the principles of the gospel because they love to and not because they have to."
Elder Boom reminded assembled leaders "to hold up the light of the gospel and invite your friends, family and neighbors to learn about the gospel." He emphasized the rejuvenating power of family history work to engage children and grandchildren in the work of salvation.