A group of Latter-day Saint leaders, members and friends of the global faith gathered in Salvador, Brazil, on Saturday, August 7, 2021, to break ground for The Church of Jesus Christ of Latter-day Saints' new Temple.
Elder Adilson de Paula Parrella, President of the Brazil Area, presided over the ceremony, and Elder Joni L. Koch, First Counselor in the Brazil Area Presidency, offered the dedicatory prayer.
"We recognize this city, whose name Salvador, refers to your Son," said Elder Koch. "May the construction on this mountaintop be an expression of the privilege that it is to have a holy house in our lives … May the construction of this house symbolize, for everyone here and around the world, a testimony of thy greatness and the certainty of eternal life."
In his remarks, Elder de Paula Parella said, "The word temple literally means 'house of the Lord'... We can be blessed by that house."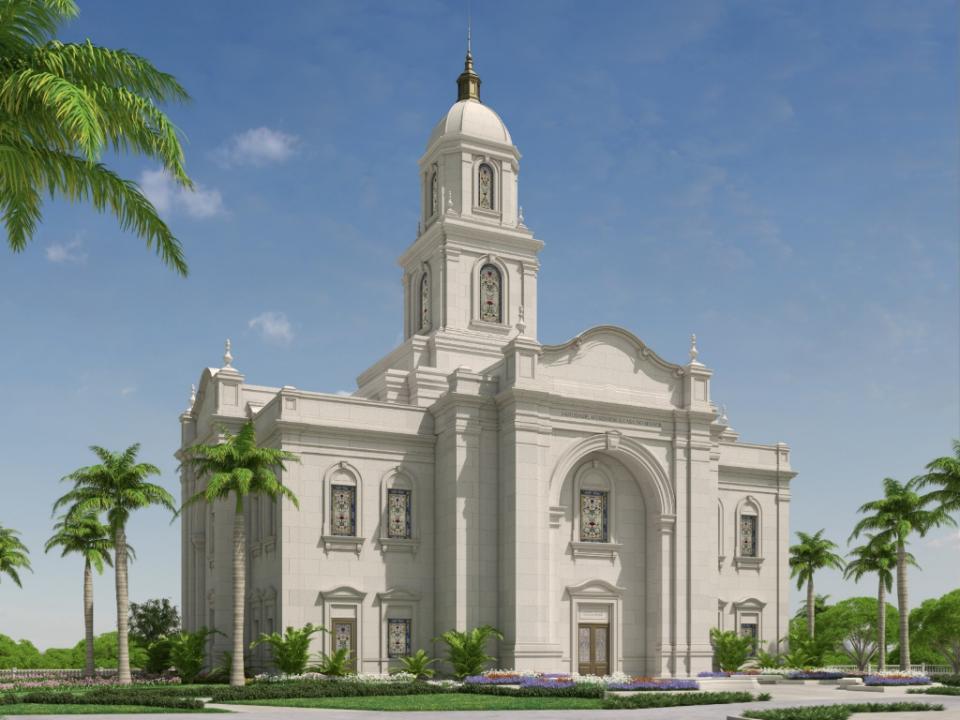 President Russell M. Nelson announced plans to construct the Salvador Brazil Temple at the end of the October 2018 General Conference.
Elder de Paula Parrella, accompanied by his wife Elaine, was joined by a limited number of guests and local Church leaders from the region and their wives including Elder Joni L. Koch, First Counselor in the Brazil Area Presidency, and his wife Michelle; and Elder Juan A. Uceda, Second Counselor in the Brazil Area Presidency. The mayor of Salvador, Bruno Reis, was also present. Other local government and Latter-day Saint Church leaders from congregations in the temple district were also present.
"With the construction of this temple, we can see the love that the Savior has for the Church's members here," said Sister Elaine de Paula Parella.
"There was only one temple in South America, the São Paulo Temple," said Elder Uceda, in his remarks.
The Latter-day Saint Church leader recalled his experience from many years ago, when he and his wife made their way from their home in Lima, Peru, by train and bus to attend the temple in Brazil and be sealed. The word sealing refers to the joining together of a man and a woman and their children for eternity.
"Today, Church members in Salvador … will have a beautiful temple," he said, to compare the growing number of sacred edifices that have been constructed in South America since then.
Brazil is home to over 1.4 million Latter-day Saints spread throughout more than 2,100 congregations. There are thirteen temples in Brazil either announced, under construction or in use. Dedicated temples in use include temples located in Campinas, Curitiba, Fortaleza, Manaus, Porto Alegre, Recife and São Paulo. A temple has also been completed and is preparing to be dedicated in Rio de Janeiro. There are temples under construction in Belém and Brasília, and temples announced for Belo Horizonte and São Paulo East.
Details for the open house and temple dedication upon its completion will be announced at a future date.
Temples of The Church of Jesus Christ of Latter-day Saints differ from meetinghouses or chapels where members meet for Sunday worship services. Each temple is considered a "house of the Lord" where Jesus Christ's teachings are reaffirmed through baptism and other ordinances that unite families for eternity. In the temple, Church members learn more about the purpose of life and make covenants to follow Jesus Christ and serve their fellow man.
A video of the groundbreaking ceremony will be available on Newsroom in the coming days.