Elder Ulisses Soares' 10-day journey to three countries in South America is concluding in Argentina this weekend. His time in Argentina has included a talk at an interfaith conference, an interview with a prominent Argentine journalist and more ministering to members of The Church of Jesus Christ of Latter-day Saints.
"Peace begins with respect for the uniqueness of each person," the Apostle told those gathered for the World Congress of Interreligious and Intercultural Dialogue in Buenos Aires on Thursday, June 8. "The concept of human dignity may vary from culture to culture, but it acts as a constant in a volatile and changing world. Human rights smooth out the imbalances of privilege, wealth and opportunity. And those rights must be universally applied."
Elder Soares said human rights are "deeper than law" and are "inscribed in our brightest hopes and aspirations for life."
"We believe our rights come from God," he continued, "but the care of those rights is up to us. This divine origin is important, because if rights become simply what the majority of people want, then they are nothing more than a power play or mere opinion."
The Brazilian native said religion is critical to the formation of stable and prosperous societies. "Religious organizations provide social connections that grow outward," Elder Soares said.
One example of this, he said, is how Latter-day Saints in the northwest United States invited Muslims to worship in their chapel after the local mosque was destroyed by arson.
Simple acts like this of Latter-day Saints trying to keep Christ's command to love their neighbor "build social trust, strengthen friendships and encourage us to defend each other's religious freedom," Elder Soares said. "Dignity transcends tragedy." (Read the full speech.)
Interview With Journalist Sergio Rubín
Also on Thursday, Elder Soares sat down for an interview with Sergio Rubín of the Argentine newspaper Clarín. Rubín, who is the authorized biographer of Pope Francis, interviewed Church President Russell M. Nelson in October 2018.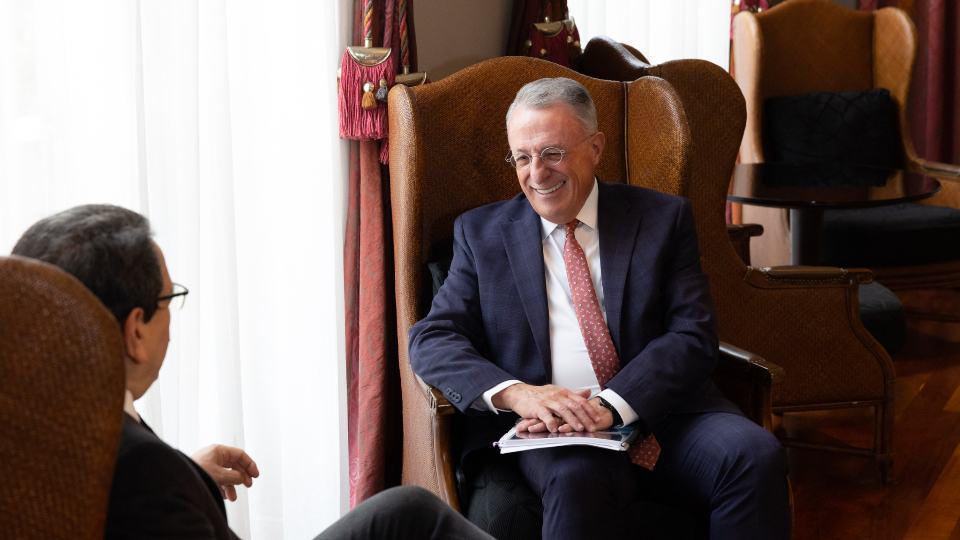 Rubín started the interview by asking Elder Soares about his participation at the Seventh Congress of Leaders of World and Traditional Religions last September in Kazakhstan.
"Could we say in the world today, that religions don't just coexist, but they start to work together in favor of humanity?" asked Rubín.
"It was amazing to see the desire that is now developing in people's hearts to have a better dialogue and have more respect for one another, because that all that leads to a better life," Elder Soares responded.
The journalist then remarked that while interfaith dialogue and collaborations in faith leaders are growing, the political sphere is not having the same kinds of conversations.
"Religious leaders are accomplishing a level of dialogue that until a few years ago seemed impossible. However, we see our political leaders arguing more than ever. How can this be?" Rubín asked.
Elder Soares responded that religious leaders are "pioneers of sorts" because they're "trying to take the world in a [positive] direction" and advocating for differing viewpoints to respect one another and work together. "One way or another, religious leaders can be a strong influence," Elder Soares said.
Elder Soares also answered other questions, including some about the Church's efforts to strengthen the world's youth, its investments and finances, and its plans to build a second temple in Buenos Aires.
Apostle Ministry
While in Argentina, Elder Soares also met with young adult Latter-day Saints during a devotional Thursday evening. He took a special moment before the gathering to greet Flavia Cruzado, 19, who in January fell onto the tracks of a train after she was robbed of her cell phone.
Cruzado lost her right leg and sustained severe injuries on her left leg when the train passed over her lower body. After narrowly surviving the incident, doctors were able to save Cruzado's left leg. Today she is back home and recently started attending college, through a scholarship, with the goal of becoming an attorney.
"It's like despite what happens to me, nothing stops me from moving forward. I have to think that the reason I'm alive is to make progress," Cruzado said.
Cruzado credits a large part of her recovery to her faith and the rallying support of her Church community, including the many prayers offered on her behalf.
"I've received a lot of help from family, my friends and the Church," Cruzado said. 
During the devotional, Elder Soares answered questions about overcoming life's challenges. He invited Cruzado to share how her faith helped her recovery. Cruzado said scripture study, prayer, attending church, and therapy with a mental health professional helped her gain a positive outlook.
"I've always had companionship and I've never been alone, which is a very important part of a quick recovery. And I've always had the Lord's help. In every moment, I have felt His presence with me," Cruzado shared. 
"I experienced turmoil, bitterness, anger, and hate when [this happened]. Something that helped me was not to ask, 'why me?' but 'what for?' Cruzado expressed. "This was something that brought me closer to others and the Lord... Instead of distancing myself from Him, I had to cling to Him." 
After the devotional, Cruzado said she was inspired by Elder Soares' words.
"[What stood out to me most was] when [Elder] Soares said that we are not [defined by] our circumstances," Cruzado said in Spanish. "This was not the first — maybe its hardest — but it's not the last of my challenges. So, I'm learning to live with a different characteristic in my life that, as Elder Soares said, is not a difficulty but a circumstance, and it won't define my life."
"It was a wonderful blessing to meet Flavia here in Argentina," Elder Soares said. "When Flavia shared her testimony yesterday, there was a solemn moment in that audience. We couldn't hear anything because the Spirit was so strong. [What] came out of her mouth, from her heart to the audience, [was] that we all can face challenges and we all can survive in this very confusing world."
"She's doing so well. She's going to get a degree at the university. She doesn't have her leg but she is excited about life. That touched the hearts of everybody in the audience, especially mine," Elder Soares expressed.