Shortly after Jesus Christ's crucifixion and resurrection, residents of an ancient civilization in the Americas were talking to one another when they "heard a voice as if it came out of heaven" and "look[ed] ... from whence the sound came."
"Behold my Beloved Son, in whom I am well pleased, in whom I have glorified my name—hear ye Him," declared the voice of God the Father.
A few moments later, "they saw a Man descending out of heaven; and he was clothed in a white robe; and he came down and stood in the midst of them."
According to the Book of Mormon: Another Testament of Jesus Christ (3 Nephi 11:3, 5, 7–8), that man was the resurrected Savior.
To illustrate the resurrected Savior's visit and ministry to people in the Western Hemisphere, season four of the "Book of Mormon Videos" series' is currently unfolding in preparation for the first episode's debut in late 2022.
Downloadable B-roll & SOTs / Portuguese SOTs / Spanish SOTs
"This year we're doing this like iconic scripture, and I think all of us have felt an extra added a little bit [of] weight because of what we're … covering here," said Blair Treu, lead director of the video series, while on set.
"I know that among the crew there has been a lot of sleepless nights, cast as well. I wake up at three in the morning just to make sure, 'Is this going to be pleasing to our Father in Heaven? Are we doing the job that we're hired to do?' And so that question is always kind of burning in the forefront of our collective conscience as we work through these scenes," he said.
The videos were filmed near Springville, Utah, where production staff constructed an outdoor set depicting a temple in a land known as "Bountiful" in the Book of Mormon and other ancient structures.
More than 1,000 actors, staff and crew members are working together to bring to life the prophecies and testimonies about the risen Son of God descending from heaven to meet and serve people from the New World.
Elder Dieter F. Uchtdorf, of the Quorum of the Twelve Apostles, and his wife Harriet, visited the site and spoke with the cast and crew.
Elder Uchtdorf is chairman of the Priesthood and Family Executive Council of the Church that oversees the project.
During their visit, Elder Uchtdorf expressed his gratitude, "for the dedication and professionalism of all who are taking part in this important Book of Mormon production."
"As we share the message of the gospel of Jesus Christ with the world, we need to realize that people often prefer to learn via visual impressions and virtual means," said Elder Uchtdorf. "We see this across the globe with Facebook, Instagram, and other social media when missionaries and members use these technology tools wisely to touch the hearts of the people with the beautiful gospel message."
Elder Dale G. Renlund, of the Quorum of the Twelve Apostles, and President Jean B. Bingham of the General Relief Society Presidency, who also serve on the Priesthood and Family Executive Council, visited the set in between production with their spouses.
"It feels as though the ground is hallowed … because of what you depict here," said Elder Dale G. Renlund of the Quorum of the Twelve Apostles as he spoke with cast and crew.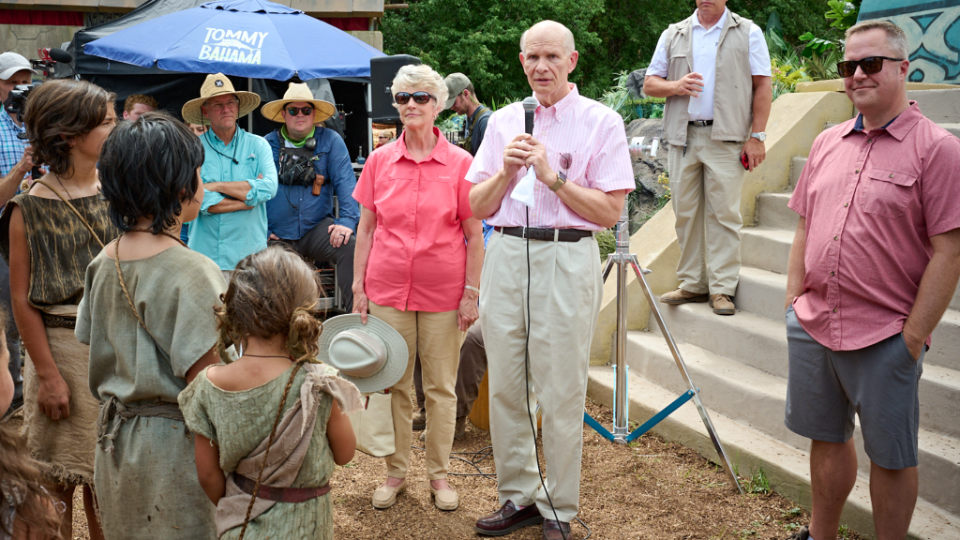 President Bonnie H. Cordon of the Young Women general presidency, and Elder Kevin S. Hamilton, of the Seventy also visited the site.
"It is the message of Christ as the center of the Church, in the center of the gospel, really the center of [the Nephites'] world," said Elder Kevin S. Hamilton, a General Authority Seventy who also serves on the Book of Mormon Visual Library Steering Committee.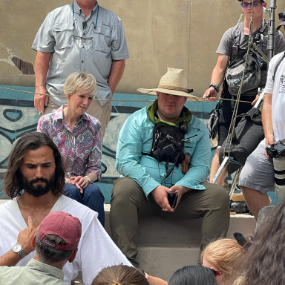 The global faith leaders shared their gratitude for the production team's dedication and participation in the project.
"Many, many people bring this together," said President Bingham. "And what's the purpose? To help people to understand the Book of Mormon and the power that it has in our lives."
Other scenes from 3 Nephi in the Book of Mormon are also being filmed. Experiences with the Savior, like those of Jesus Christ's followers in Jerusalem, include his blessing and ministering to children (3 Nephi 17:11), healing the sick and afflicted (3 Nephi 17:7), and calling 12 apostles to teach His gospel (3 Nephi 19:4).
"It's quite a production," said Stephanie Batson, a set decorator, who explained that her crew arrived five weeks before filming to get things ready. "We came in and planted all the plants around and did all the dressing, and it takes quite a while. That's a lot of labor and it's intense in the heat."
The purpose of these scripture-based videos is to help Latter-day Saints and friends of the Church increase their faith in Jesus Christ.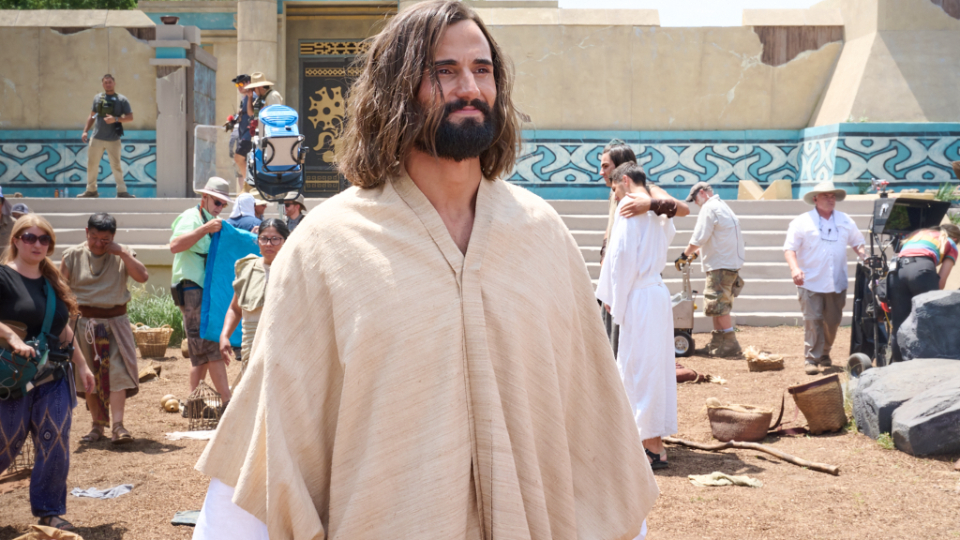 "I've only done a few days [of filming], but it's been an incredible experience being with a cast and crew who are all here for one reason," said Anthony Butters of Auckland, New Zealand, who plays the part of the resurrected Jesus Christ.
"Being on the set, this amazing set, and in front of all the other cast members and everything—it really just helps you to kind of see these stories that you've read all your life, to see them with fresh eyes," he said.
Butters said makeup artists created handmade prosthetics for his hands and feet to portray the wound marks left on Jesus Christ after His crucifixion. The 34-year-old actor added that, although physical preparation is lengthy and laborious, heavenly help has aided him in all other aspects of his preparation.
"It's basically just a lot of memorizing the lines and leaving the rest to the Lord," said Butters. "And that's essentially it."
"I hope that it can just teach people about their Savior and His love for them," said Penny Johnson, who works as a script supervisor.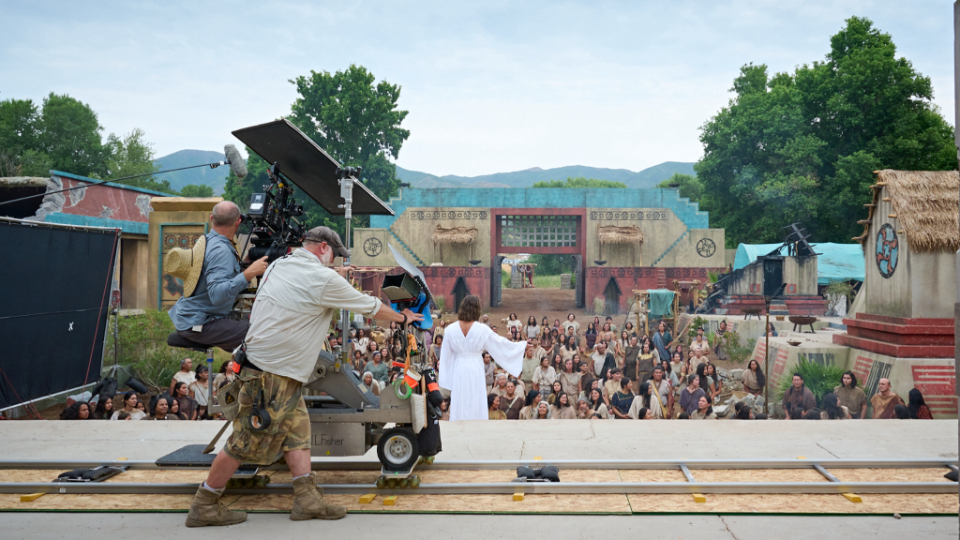 Previous seasons can be found on the Book of Mormon Videos YouTube channel, on ChurchofJesusChrist.org, or in the Gospel Library app. Subscribe here to be notified when new videos are published on the Book of Mormon Videos YouTube channel.
Similar to the series' first two seasons, new episodes will be published simultaneously in 15 languages, including Cantonese, Cebuano, English, French, German, Italian, Japanese, Korean, Mandarin, Portuguese, Russian, Samoan, Spanish, Tagalog and Tongan.
One additional season of filming in 2022 will include episodes that cover other writings from ancient prophets including teachings of Mormon, Ether and more stories from the books of Mosiah, Alma and Helaman.