Newsroom features stories from its dozens of websites around the world to show what members and leaders of The Church of Jesus Christ of Latter-day Saints are doing to serve their communities. Today, we feature news from Ukraine, Ghana, Italy and elsewhere.
Ukraine: The Church Addresses the Needs of Ukrainian Refugees
The Europe Area Presidency is working with teams at Church headquarters (Salt Lake City, Utah) to identify and address needs to help with the developing humanitarian crisis resulting from the current armed conflict. Relief supplies — including sleeping bags, cots and tents — are being delivered to local government agencies, the Red Cross and other NGOs who are attending to Ukrainian refugees arriving in bordering countries. Additional aid is being organized. Church members and friends have also been invited to fast and pray for those so deeply impacted. More will be shared about their efforts in the coming days and weeks.
Church members around the world have inquired about how to help or contribute. They can do so through the Church's Humanitarian Aid Fund, which will be used to address this and other crises.
Ghana: Remote Villages Receive Access to Clean Water
In January, Latter-day Saint Charities, the humanitarian arm of the Church, installed boreholes (water wells) in several remote villages of West Africa. This ongoing project gives locals access to fresh, clean well water. "We [had been] using the streams," said Amemuglo Samuel, a headmaster in Akora Darko. "They were a far walk, and the whole village was using them. When the streams dried up, we had one borehole for the whole community. This was not enough. Whenever you would go to the borehole to get water, there were many people. In the morning, you could not even get water because there were too many people needing water."
After the project's completion at the end of January, the villagers of Akora Darko held a celebration to show their appreciation. "We are very happy with this water you have supplied us with," Samuel said. "We are grateful to you. We pray to the Almighty God that wherever you were able to get the funds to provide this water for us, that God will bless you and those funds will be replenished."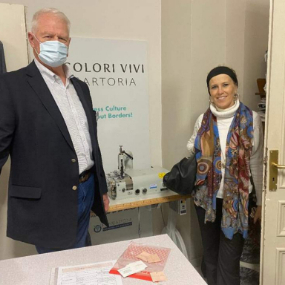 Italy: Refugee Women Learn Marketable Skills
Colori Vivi, an Italian women's fashion company, continues to partner with Latter-day Saint Charities to help refugees build new lives. The Church's humanitarian arm has an ongoing relationship with the company, providing sewing machines and tailoring equipment for specialty fabrics.
Barbara Spezini, Colori Vivi's founder, created her company to teach refugee women marketable skills. "I had to find a way to help these women," she said in an interview with Italy Newsroom. "I believe God sent them to me."
"Barbara made helping other women her life's work," said Kraig Christensen, a senior humanitarian missionary for the Church. "[She] is a Christian woman of great faith. We have many values in common with her. It is a privilege for us to contribute to her good works and support her in her inspired vision."
The small company teaches tailoring to immigrant women from many parts of the world, including Nigeria, Somalia and Libya. Many of them have fled war-torn villages, marital violence or street life.
Since 2019, 44 families have received employment or housing after training with Colori Vivi. More than 100 others have received additional assistance.
The Republic of Congo: FamilySearch Preserves Records in Central Africa
FamilySearch, a nonprofit organization sponsored by the Church of Jesus Christ, continues to collaborate with countries in central Africa to digitize vital records. Digitizing the records helps people research their family lines and preserves the nations' histories.
FamilySearch and Congolese officials, along with those of other faiths, have worked on this project since 2016. The project is ongoing, as shown by a recent relationship-building meeting in early February between FamilySearch representatives, Catholic Monseigneur Tshole and the country's Minister of Digital Technology, His Excellency Mr. Desiré Kolongele Eberande.
Ghana: Donation Supports Victims of Domestic Violence
The Church of Jesus Christ of Latter-day Saints and others recently donated office furniture and water and sanitizer dispensers to the Ghana Police Association (GPA) for its new Domestic Violence and Victims Support Unit in Accra. According to Africa Newsroom, the GPA had been designing "a simpler, kinder program for victims" for several years. These new supplies allowed them to begin the program's implementation.
The new center is a one-stop shop for abuse victims and investigators. It includes a clinic, playroom, counseling, social welfare, legal aid, child-friendly courts and other services.
Pacific: Church Members Clean Beloved Town Cemetery
In Pirae, Tahiti, 50 Latter-day Saints and neighbors spent their early morning hours on Saturday, February 12 cleaning the city cemetery. According to Pacific Newsroom, the project was part of the Church's month of community service in the Pacific Area.
"They came and organized themselves … elders, grandfathers, grandmothers, children, but also young people," said Kalani Teniaro, communication manager of the city of Pirae. "The Municipality is grateful. … This site [is] so dear to the hearts of our town's citizens."
Nicaragua: Donation Supports Frontline Medical Workers
On February 18, Church members from the Chinandega and Chinandega Oeste stakes (groups of congregations) donated medical supplies to Nicaragua's Department Hospital of Chinandega. Stake presidents Carlos Brenes and Norman Vado delivered the contribution to Dr. María Esther Estrada, director of the Local Comprehensive Health Care System, Department of Chinandega, and Dr. Esmeralda Morales, director of the Departmental Hospital of Chinandega. Spanish Newsroom reports that surgical caps, boots, gloves, face shields and KN95 masks were among the items donated.
Guatemala: Local Hospital Receives Donated Equipment
The Church donated various medical devices and 200 surgical gowns to the District Hospital of Barillas Huehuetenango in Guatemala. A local Church leader, Eduardo Vásquez, delivered the gift on February 22, 2022, to Director of Pediatrics, Dr. Yesenia Reyes.