Newsroom features stories from its dozens of websites around the world to show what members and leaders of The Church of Jesus Christ of Latter-day Saints are doing to serve their communities. Today, we feature news from the United States, Canada, Australia and Mexico.
United States: Donations for Afghan Families Gathered and Delivered by JustServe Volunteers
On Saturday, September 4, 2021, volunteers from The Church of Jesus Christ of Latter-day Saints and their neighbors responded to an urgent request on JustServe, a website that links community volunteer needs with volunteers. The posting requested help to move donated household goods and hygiene supplies from the meetinghouse of the Church of Jesus Christ on Ox Road in Fairfax, Virginia, to the Lutheran Church of the Covenant in Dale City, Virginia, where recipients of the Afghan Allies program could later retrieve them.
More than 80 volunteers came in 24 hours with wagons, hand-trucks and personal vehicles to ensure thousands of skillets, diapers, bed sheets, mops and other household items were transported in one day.
One volunteer, Gabriel Pardo of the Spanish-Languages Occoquan River Ward (congregation), drove a small team 40 minutes to the Fairfax location to help load the donations. Another group worked quickly to fill a 26-foot truck from floor to ceiling in an hour with thousands of boxes, packing more donations than expected. "We're grateful to serve," said Emma Young. "In the days, weeks and months ahead, we may forget some details. We may be working so hard and fast to help our fellow man that it's difficult to note, but I hope we remember that many miracles are taking place and the Lord's hand is behind [them] all."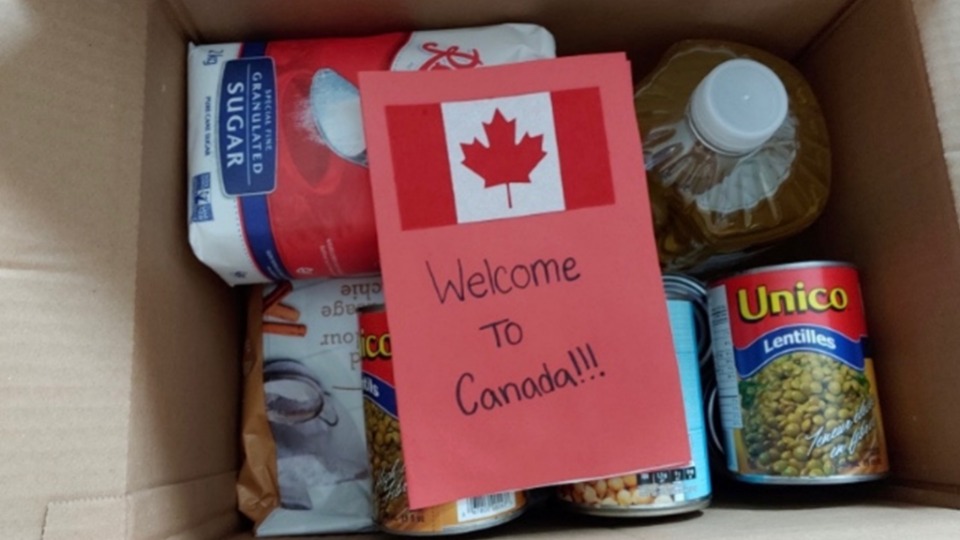 Canada: Refugees Greeted with Food and Love
According to a Canada Newsroom report, members of the Lethbridge Alberta East Stake (a group of congregations) of the Church of Jesus Christ recently worked with the Lethbridge Family Services (LFS) to welcome refugee families with boxes of food and hygiene items. Flour, sugar, oil, rice, canned beans, lentils, pasta and other staples were donated to fill the boxes. In early September, youth volunteers bagged and labeled spices, assembled the boxes and made cards welcoming the families to the country.
"When government-assisted refugees first arrive [in] Canada, they are often hungry and exhausted," said Najib Mangal, manager of community connection and employment services at LFS. "Having access to culturally appropriate food helps the families feel welcomed and at ease. We at LFS, as well as our refugee clients, are extremely grateful for the kindness of The Church of Jesus Christ of Latter-day Saints, who provide us with food and hygiene kits for our new arrivals."
Australia: 1,600 COVID-19 Tests Administered in Two Weeks at Testing Site on Church Property
Since July, the leaders of the Beenleigh Stake of The Church of Jesus Christ of Latter-day Saints has allowed QML Pathology to use their parking lot as a testing location for COVID-19. In an interview with Australia Newsroom, Olene Tuiatua, president of the Beenleigh Stake, said, "We pray for all members of our community and for the safety and care of families and individuals with the pandemic and are humbled to be able to assist where we can."
The church building was considered a perfect location for COVID-19 testing because it sits on a main road and has a parking lot that wraps around it, accommodating drive-through testing. "This site has enabled QML Pathology to collect over 1,600 swabs from the area in the past two weeks of operations," said Kevin Thomas, the continuous improvement manager of business operations for QML. "We are all working together [to make] Queensland safer one swab at a time."
Mexico: Latter-day Saint Charities Supports Children with Cerebral Palsy
On August 25, Latter-day Saint Charities, the humanitarian arm of the Church, donated medical equipment and instruments to the Association for People with Cerebral Palsy (APAC) in Mexico City. The items assist in early detection and diagnosis of cerebral palsy in young children. Guadalupe Maldando, the general director of APAC said, "If we take care of [the children] in time, [they] can reduce these sequelae or even reverse them. Early detection and timely diagnoses change lives." It is estimated that the instruments will last 20 years and will benefit 16,000 children. To learn more about this donation, read the coverage of the donation on the Mexico Newsroom site.
Service Around the United States Commemorates 20th Anniversary of 9/11 Attacks
The National Day of Service and Remembrance is an annual tradition observed on September 11 throughout the world to remember the sacrifice and lives lost in the 9/11 attacks. On September 11, 2021, Newsroom published information about the many service projects taking place in Utah and across the nation to recognize the National Day of Service and Remembrance. Here are additional articles about service rendered on 9/11 in North Carolina and Oregon.
North Carolina: Cupcakes for Cops
Gratitude was shown to police officers during the first annual Cupcakes for Cops 9/11 project. Over 1,000 volunteers delivered nearly 2,300 cupcakes to cops serving in central North Carolina counties. A description of the project on the JustServe website said they had so many cupcakes that the group was able to deliver to a few fire departments as well. Video clips, photos and a full list of the departments served can be found in this YouTube video.
Oregon: Loving Hearts Clean a Home
Volunteers from Albany, Corvallis and Independence, Oregon, and missionaries from The Church of Jesus Christ of Latter-day Saints gathered in Albany on 9/11 to clean a home that had just been deemed "dangerous" and "unfit for living." The homeowner had chronic health issues that had become unmanageable, making it impossible to clean and perform home repairs. JustServe volunteers and staff from the Albany Police Department coordinated efforts to help fix up the house. In nine hours, flooring was removed, walls were cleaned and enough trash to fill a 40-yard dumpster was thrown away. According to a JustServe post, new flooring and paint were donated by community members.