Newsroom features stories from its more than 80 international Newsroom websites as well as from those in the United States to share what members and leaders of The Church of Jesus Christ of Latter-day Saints are doing to better serve their communities throughout the world.
Philippines: Interfaith Community Unites Over Face Shield Creation
In April, members of the Davao Interfaith Group representing Focolare Movement, Brahma Kumaris Meditation Center and The Church of Jesus Christ of Latter-day Saints, along with various businesses, assembled and delivered 1,300 face shields to the health care workers battling the global pandemic.
Phillip Tan, a Latter-day Saint in the area, led the project after hearing about a group producing 3D-printed face shields but faced difficulty meeting the demand. To help resolve the situation, Tan's group oversaw delivery of the materials to other volunteers, picked up the assembled shields once they were completed and handled the distribution to different beneficiaries including Tagum Doctors Hospital. A Philippines Newsroom news release reported that "over a thousand face shields [had] already been distributed through Davao Region" as of April 27. (English)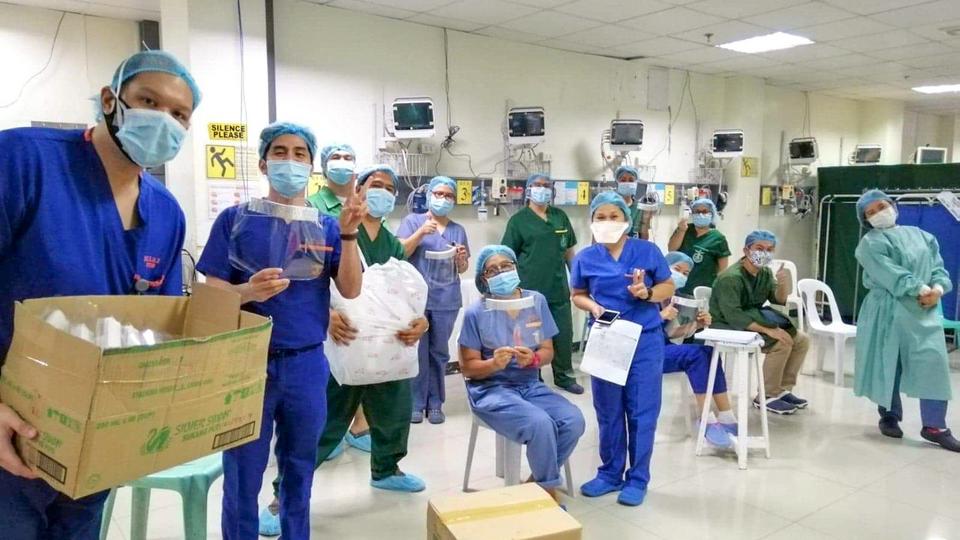 United States: Church Coordinates with Muslim Community Leaders to Fight Hunger
In mid-April, the Church sent truckloads of humanitarian donations to the Nation's Mosque in Hyattsville, Maryland, the Langston Hughes Community Center in Baltimore, Maryland and Masjidullah, Inc., a nonprofit in Philadelphia, Pennsylvania. Each organization received 40,000 pounds of food and essential supplies.
With the COVID-19 pandemic creating additional hardship for many less fortunate families in need, Michael Brady, president of the Baltimore Maryland Stake (similar to a diocese), searched for a way to help. He asked Imam Earl Al-Amin of the Muslim Community Cultural Center of Baltimore how much food they may need and was told 1,500 pounds. "Mike called back and told me there were 40,000 pounds on the way," said Imam Al-Amin. "I met Mike a few years ago, and we've worked on several initiatives. People ask, 'what's the connection?' The connection is the Creator. The connection will always be the Creator."
It is estimated that each donation of 40,000 pounds of food could assist 200 families, reports PR Newswire. (English)
Paraguay: Blood Donations Continue Despite Pandemic
The COVID-19 pandemic has created a greater need for the donation of blood. To assist Paraguay's health care facilities blood supplies, local church representatives coordinated with their National Center for Blood Services (CENSSA) and others to hold blood drives in early April.
Under careful guidelines, the blood drives were held in two of the Church's meetinghouses located in Ñeemby and Lambaré. One organizer expressed gratitude by saying, "This is a Church very dear and admired by our Institution. We are very grateful . . . we need it because it is essential for our patients."
Read more about the success of these chapel blood drives on the Paraguay Newsroom site. (Spanish)
Chile: Church Humanitarian Flight Helps Chileans Stranded in the US
In early April, The Church of Jesus Christ of Latter-day Saints and the Ministry of Foreign Affairs of Chile worked together to secure a unique way for Chileans traveling in the United States to return home during the COVID-19 pandemic and subsequent travel bans.
Because the Church continued to deliver essential humanitarian aid and supplies to Chile, it was agreed that many of the stranded travelers could accompany the supplies and were offered a free flight home. With just one flight, from Los Angeles to Santiago, the Church was able to return more than 140 people.
Read firsthand accounts from a few of the passengers on the Chile Newsroom site. (Spanish)
Peru: Refugee Aid Continues Amidst COVID-19 Restrictions
In mid-April, amid government travel restrictions and social distancing protocols, Church representatives coordinated with the Interreligious Committee for Refugees and Migrants (CIREMI) in Peru to deliver baskets of supplies to roughly 1,000 Venezuelan refugees.
"Saying 'thanks' falls short of the joy [the Church] has provided to so many needy households," said Paula Franco, secretary of CIREMI, in the news release published by the Peru Newsroom. (Spanish)
Philippines: More than 17 Thousand Books Donated to Children
Missionaries and members of The Church of Jesus Christ of Latter-day Saints volunteered countless hours to sort, categorize and repackage nearly 17,400 hard-bound books gathered from donors in the United States and Great Britain. In early March, Latter-day Saint Charities (the humanitarian arm of the Church) presented the Last Mile Schools Program of the Department of Education in the Philippines with the donation of activity and literary books for a lifetime of learning.
The Last Mile Schools Program aims to "address the gaps in facilities and resources of public schools situated in [rural] or conflict-affected areas." Latter-day Saint Charities sponsored the project in hopes of helping children increase their education and future opportunities to become self-reliant.
More about the gift of reading can be found in the original article on the Philippines Newsroom site. (English)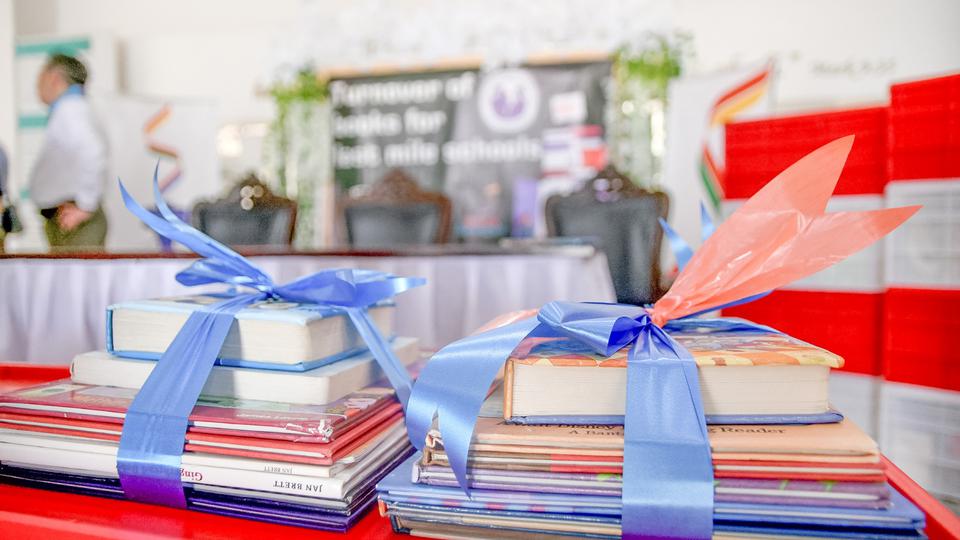 Uganda: Church Offers Recovery Assistance Due to Severe Flooding
Major flooding washed away crops and damaged homes in the eastern region of Uganda earlier this year. To assist residents in providing food for their families, Church leaders delivered a donation of 10,000 hand hoes to the State Minister of Disaster Preparedness and Refugees, the Honorable Musa Francis Ecweru.
President Walter Chatora of the Uganda Kampala Mission presented the tools on behalf of the Church. "It is better to teach one how to fish than [to] give them fish," he said in the news release on the Uganda Newsroom site. (English)
United States: Donation of Nearly 10,000 Masks was Three Years in the Making
Nearly 10,000 masks were donated by Stephen Cooper, bishop of a local congregation of the Church, in College Station, TX, to Baylor Scott & White, CHI St. Joseph Health, and CapRock Hospital on March 24.
In 2017, Cooper and other community members helped with cleanup efforts after Hurricane Harvey. He reached out to friends and colleagues on Facebook asking for help in gathering tools and masks for the volunteers. N95 masks, specifically, were required when working around black mold.
"I had people dropping off items on my front porch," he recalled. "At one point I had six full sets of tools and a lot of masks were donated by a lady who worked at a hospital. It all came from individual donations in the community."
After the cleanup efforts he had many clean and unused items left that he "just stashed away" in his attic.
"Last year I was cleaning out the attic and realized all those bins were still here. I didn't think I should keep them," said Cooper. As a bishop, he felt that the supplies belonged the Church. "I thought they should be available to the next bishop in case they were needed for a future hurricane." He found storage space at one of their local meetinghouses and transferred them there where they were quickly forgotten.
This past March, Cooper saw what was happening with COVID-19 and realized, "Now is the time to bring the masks out." He and his wife, Timee Cooper, donated just under ten thousand masks. Many were the N95 grade, which is now rare and desperately needed in the medical fields.
KBTX, a local news outlet covered the donation with video and print found here. (English)