"I wish to plead [with] other organizations to emulate our Lord Jesus Christ in serving others to bring light to the hopeless and needy this festive season and beyond. On this note and together with the leadership of [The Church of Jesus Christ of Latter-day Saints] we declare Light the World 2022 duly launched," said the honorable Ernest Arthur, mayor of Cape Coast, Ghana, at a community and interfaith cultural event on November 30, 2022.
The Church's #LightTheWorld global initiative was launched at the end of November, inviting "every nation, kindred, tongue and people" to share the light and love of Jesus Christ through acts of kindness each day of December.
Here are some of the service projects, acts of kindness, charitable giving and Christmas celebrations that have been organized to light the world:
Africa
In Cape Coast, Ghana, a community event complete with cultural dance performances kicked off the Christmas season. Interfaith and civic leaders shared messages of hope and encouraged attendees to light the world by creating peaceful and united communities. Imam Mulvi Abdul Hamid quoted the Bible in his remarks. "In the book of Matthew [it says] 'blessed are the peacemakers for they shall be called the children of God.' For us to enjoy peace and tranquility and harmony there is a need for us to have brotherly unity. This also conforms to the teachings of the Quran. We need to help each other. We need to also be tolerant enough to accept each other so that we can have peace prevailing in our society."
In South Africa, nearly 700 residents participated in service in Soweto and Bedfordview. Donations for hygiene kits for a women's shelter were gathered during Light the World Carols Festivals. Festival attendees were also given a roll of red wrapping paper with the "Light the World" logo on it and challenged to "Light the world by wrapping a gift for someone in need."
South America
Nearly 1,500 guests attended recitals and community concerts held in Lima and Chorrillos, Peru. More than 1,000 children received a gift from Santa at the annual "Christmas of the Chorrillano Child" show.
Residents of Bogota, Colombia, and Guayaquil, Ecuador, held interfaith festivals showcasing music and dance from different cultures.
Youth from the Church of Jesus Christ in Castilla, Peru, cleaned the Special Basic Education Center (SBEC) and provided Christmas-themed entertainment for children.
Pacific
Young single adults of the Church in Auckland, New Zealand, spent two weekends sorting food and clothing at the Auckland City Mission. Care packages with essential items were assembled for vulnerable individuals and families.
Full-time missionaries of the Church and a local family in Christchurch, New Zealand, engaged their creative side by decorating neighborhood streets. They tied red ribbons and bows around trees in the community for the Christmas season.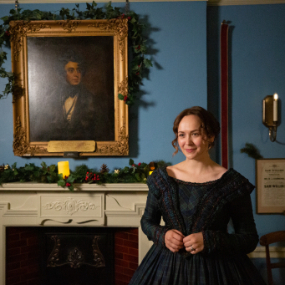 Europe
Church members and friends produced an hour-long musical Christmas concert titled "Witnesses of Christmas - Symbols of Christ" with performances by 12 popular European artists. The concert was filmed in the Charles Dickens Museum in London and the Roman Theatre of Merida in Spain. The concert was recorded and can now be streamed online in 31 languages.
Asia
With Christmas widely seen as a commercial holiday in Asia, Church members recorded the first Christmas devotional to teach others about the birth of the Savior and the true meaning of Christmas. Nativity reenactments, songs, scriptures, and testimonies of Christ were shared during the 50-minute video that featured congregations in Hong Kong, India, Indonesia, Malaysia, Singapore, Taiwan and Thailand.
The devotional can be watched on YouTube in English and seven other regional languages.
United States
Latter-day Saints and friends sought to light the world in a variety of ways ranging from public nativity displays in Rancho Bernardo, California, Bellevue, Washington, and Palmer, Alaska, to participation in a Christmas parade in Macon, Georgia. Church members also had an entry with a live nativity in a boat parade attended by approximately 1 million spectators in Newport, California.
Acts of service and kindness ranged in size and reach. Some acts of kindness were as small as paying for someone else's order of food in a drive thru and as large as a day of service at the Ronald McDonald House in Mobile, Alabama.
One of the largest Light the World activities spanned four states in the southeast. A blood drive in connection with OneBlood was hosted in 52 locations across Florida, Georgia and North and South Carolina. Nearly 1,900 units of blood, creating over 5,400 usable transfusions, were collected in a single day.
Light the World Giving Machines
Light the World Giving Machines continue to grow in popularity, receiving endorsements from national and local leaders throughout the world, as well as a few celebrities. This year, a machine is available in 36 locations through January 2, 2023. A Mobile Giving Machine journeyed to five locations in the southeastern United States. The Mobile Giving Machine is currently in Charleston, South Carolina, through Friday, December 23.
Light the World Donations
As of Thursday, December 15, more than 101,000 donations were made globally for those in need through Light the World Giving Machines.
These are a few of the items purchased:
7.3 million water purification tablets
More than one million meals
197,300 polio vaccines
More than 18,600 chickens
About 1,700 beehives
More than 80 water pumps
Since the first Giving Machine appeared in 2017, total contributions have reached US$15 million. As part of its ongoing global humanitarian efforts, The Church of Jesus Christ of Latter-day Saints covers all operational costs, ensuring that 100% of every donation goes to the charitable cause of your choice. Donations to Light the World Giving Machines continue through January 2, 2023, and are accepted online.